Fan Section
Kim's Story
Hi, my name is Kim. I have been a fan of figure skating for years (too many to count). For as long as I can remember I have been a Tonya Harding fan. I've had the opportunity to meet her 3 times, I have also talked on the phone with her quite a few times. I feel that through the years we became friends. And what a wonderful friend she is. She's full of life and like the rest of us likes to have fun. Now onto the times that I met her.

8/19/94- I was part of Tonya's fan club and they were having a dinner to honor her. This is where her fans could meet her. This is also where I met Linda & Greg. Anyway I got there early. After a while someone said, "Tonya's here." Well I had to go see for myself. When I had finally seen her I thought, "Oh god, I never thought this time would come". My knees were shaking.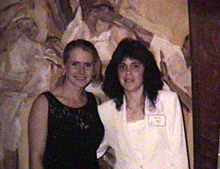 Before dinner Tonya had set time aside to get pictures taken with everyone. I think there were around 180 of us. Tonya had them take polaroids and signed each one and gave them back to all of us. After dinner they had a thing (I guess you would call it a roast) where people talked about Tonya. There were some pretty funny stories. Then Tonya got up and thanked everyone for supporting her through the years. Before the night ended Tonya got to talk to each person for a few minutes. Throughout the night Linda & Greg were playing music. They were awesome. At the time Tonya was talking to everyone I asked her where to go for fun. I think I caught her off guard. Everyone was asking skating questions and I came along with my question. Well I went where she told me to go. I went with Patrick (the guy she skated pairs with). All I can say about that night is that Tonya was much more then I expected. I made friends with alot of Tonya supporters. Because of this Tonya heard my name alot and became familiar with me. That night was a night to remember. That is the night Tonya became a person to me and not just a skater. Thank you Tonya for making my dream come true. You have a fan for life. But you already knew that.
I became friends with Linda & Greg (who are great people). This is where Tonya got to know more about me. Through the next several months Linda and I became close. During this time I had talked to Tonya on the phone and she even called me. I was so excited when she called (you would have thought I was a 5 year old in a candy store). During this call we joked and got to know each other better.
6/4/96- Linda had called me and told me that Tonya was gong to be in N.Y. to tape the Geraldo show. Tonya as Linda to call and tell me to meet her there. Well of course I jumped at the chance to meet her again.
6/5/96- When I got to the studio Tonya had left my name at the front desk. Boy did I feel special. Anyway I was late so I had to sit in the Green Room. After the show they said Tonya was coming. Well again the knees started shaking. This time there wouldn't be a crowd of people around. As soon as Tonya realized who I was she gave me a hug. At this time we talked and joked. We didn't have much time because she had to catch a plane. In the elevator she told me what they did the night before. It was like 2 friends talking. One thing I can say is that she is so friendly. She had to leave. She thanked me for coming and gave me another hug. Did I ever think we could be this close? I think not. I feel the reason that Tonya liked me was because I treated her like a human. She's really just like the rest of us.
Through the next couple of years Linda & I became very good friends. I wouldn't trade this friendship for anything. I talked to Tonya on the phone a few more times. The last time we talked was when she found out that she could skate again. Tonya, Linda and myself were so excited. It was the best news we had heard in a long time.
About a week later Linda called and said her & Tonya would be in N.Y. on the 25th. Tonya would be skating. They asked if I wanted to meet them. Well of course I was going to meet them. Linda and I had been such good friends and Tonya and I were becoming much closer. I had to go see my friends.
2/25/99-I got up at 4:30am and we were on the road by 5:30. We ran into alot of traffic. I was having a panic attack because I thought I would miss them. When we finally got to the studio as we were getting ready to walk in they walked out. My knees weren't shaking this time. We all hugged then went to the Rockefeller Center. I was so excited because I had never seen Tonya skate "LIVE". When Tonya went out to warm up I was in Awe. It was so great to see her on the ice. That day it was so cold. The rink was so small that Tonya was limited in what she could do. If you've ever seen the rink in person you know what I mean. When Tonya started her program I wanted to cry. She was so beautiful. I was so happy for Tonya. Also very happy that she invited me to be there.
After she performed JoJo had called. When Tonya finished her call Linda said, "Let's get a picture of you and Kim." Well much to my surprise Tonya almost jumped in my lap. This picture is my favorite. Tonya also got pictures taken with my family. We then went to MSNBC so Tonya could do another interview. She had some time to wait so she joked with everyone.
My nieces couldn't believe how nice she was. She also pretended she was the weather person. That was so funny. Wish I had my camcorder. After the interview she ask us to go to the airport and have some coffee (I hate coffee) with her and Linda. We walked them to their car and Tonya kept looking in windows (you know window shopping). Then she seen 2 police officers on horses. She had to ge her picture taken with them. When she was walking away one of the officers said "You look familiar." She told him who she was and he gave her the thumbs up. Tonya really wanted us to go to the airport. I had no idea where it was. Well I did find it.
When we got there we went outside to take pictures. At this time I was really joking with her. This was personal tie between the 6 of us. My nieces couldn't believe how Tonya was treatig them lke she knew them forever. Tonya made them feel so relaxed. Tonya then asked us to walk them to the gate. When we got as far as we could Tonya & Linda gave everyone a hug and thanked us for coming. The way I see it is thank you Tonya for inviting us.
As for my opinion of Tonya. 5 years ago I didn't know what to expect. As for now I think Tonya is one of the nicest, friendliest people I ever met. I feel we are very close now. She is the little sister I never had. If you ever get to meet her you will see just how nice a person she is. I would like to thank Linda for calling and being such a great friend. And Tonya well what can I say, I Love You and support you all the way. Everyone who reads this, as you can see dreams do come true.